ELECTRIC SIT TO STAND : Create a healthy and comfortable work environment with the help of this sit stand desk. Move from a sitting to standing position in a matter of seconds with the electric height adjustment mechanism. Standing while working will help increase alertness and productivity!
EASY TO USE : This standing desk converter makes it easy for you to transition from a sitting to standing position with minimal effort on your end. Simply press the button on the side of the desk and watch it smoothly lift to your desired height. You have the ability to adjust this desktop workstation from 5.7 inches all the way up to 17.71 inches to suit your needs!
LARGE WORKING AREA : You don't need to worry about this sit stand workstation intruding on your desk space since it has a very large working area. The keyboard tray is large enough to fit both a keyboard and a mouse, and the top platform can easily fit a monitor and a laptop, or two monitors if needed!
ERGONOMIC WORKSTATION : An ergonomic environment is important for your health. People tend to experience eye strain from their monitors not being raised high enough, and neck and back pain from sitting incorrectly for extended periods of time. Standing during your workday will increase your energy, alertness, and productivity, and this height adjustable desk riser can help you achieve that.
MI-7927E gives you various placement options for convenient use of your laptop, notebook or tablet. When lifted into the standing position, the 35.4"" inch wide display surface allows you to work comfortably. Electric motor powered lift mechanism allows you to raise and lower it effortlessly in just seconds. MI-7927E gives you all the sturdiness and flexibility of Mount-It! products in a compact footprint. Product Features Perfect for laptops, computers, notebooks, and tablets Fits most desks in any office or cube Ergonomic design that adjusts to most user's height Electric motor powered lift mechanism Switches from sitting to standing position in seconds Built-in keyboard tray Holds up to 33 lbs. of weight Tabletop size: 35.4 in wide x 23.22 in deep. Keyboard tray size: 35.4 in wide x 11 in deep. Easy set-up, no assembly needed. Adjustable riser offers an ergonomic and affordable solution to meet your sit-stand needs. Black laminated desk with black metal base. Height adjustable is an ultra easy sit-stand solution. Dimensions: 6.25""-17""H x 35.4""W x 35.25""D. Capacity: 33 lbs. No assembly required. 10-year manufacturer limited warranty. Sold as 1 Each.
---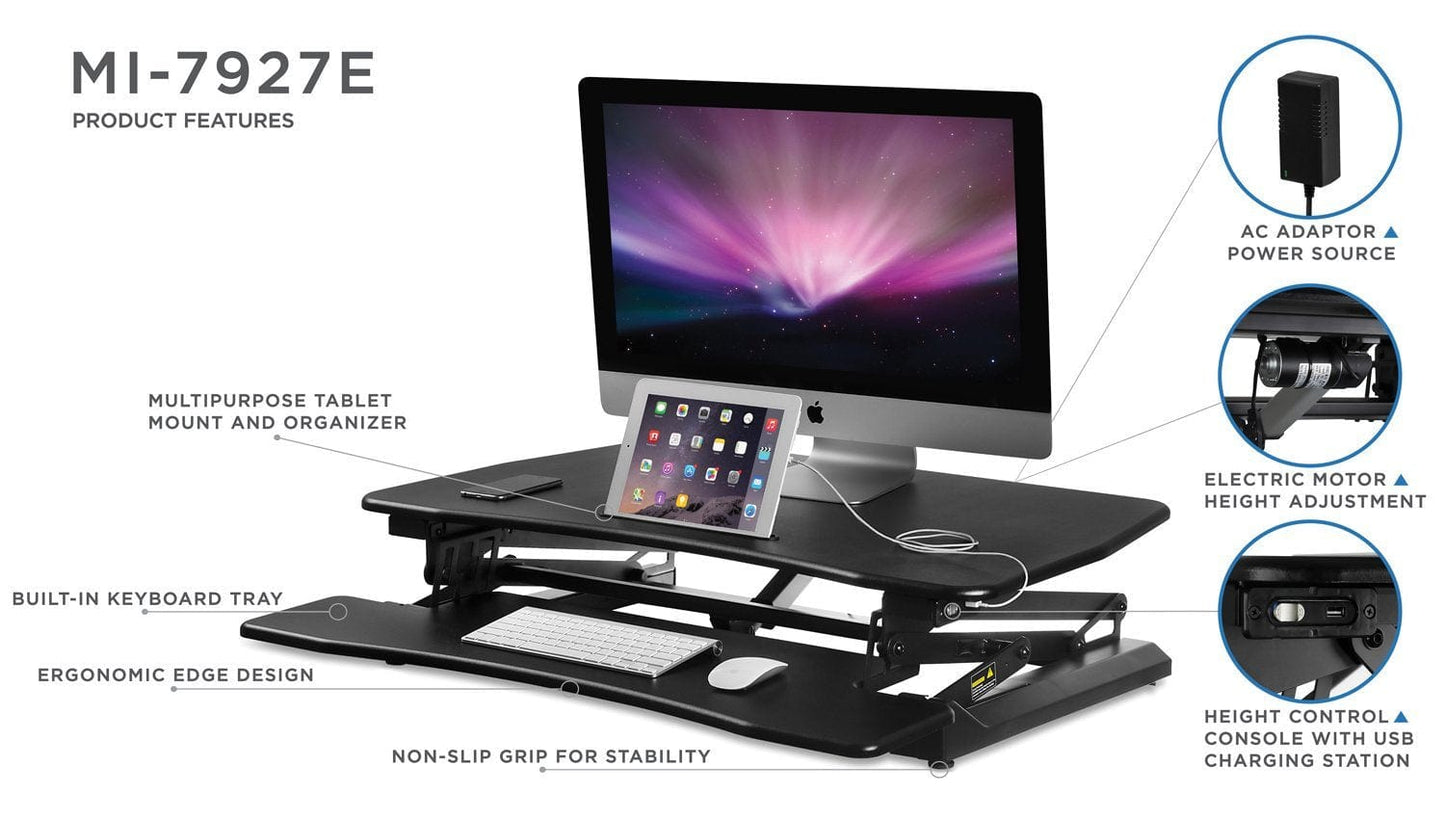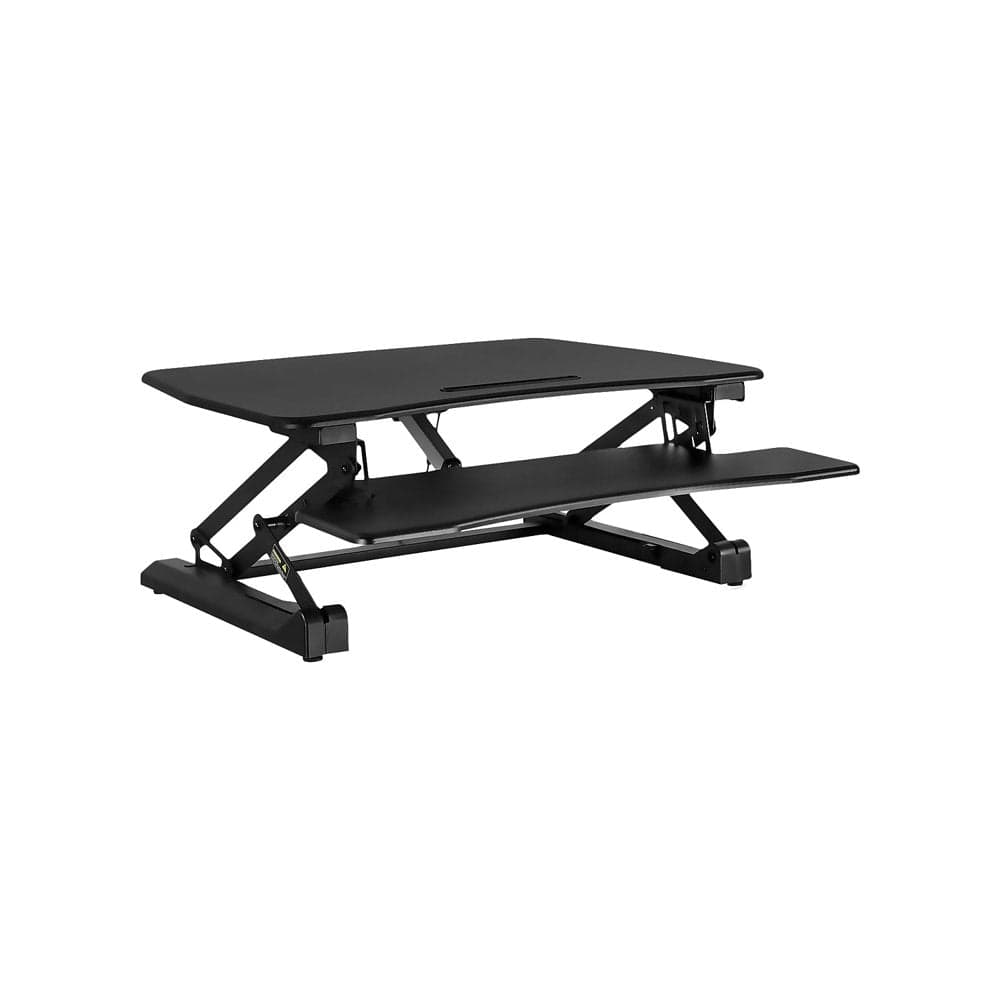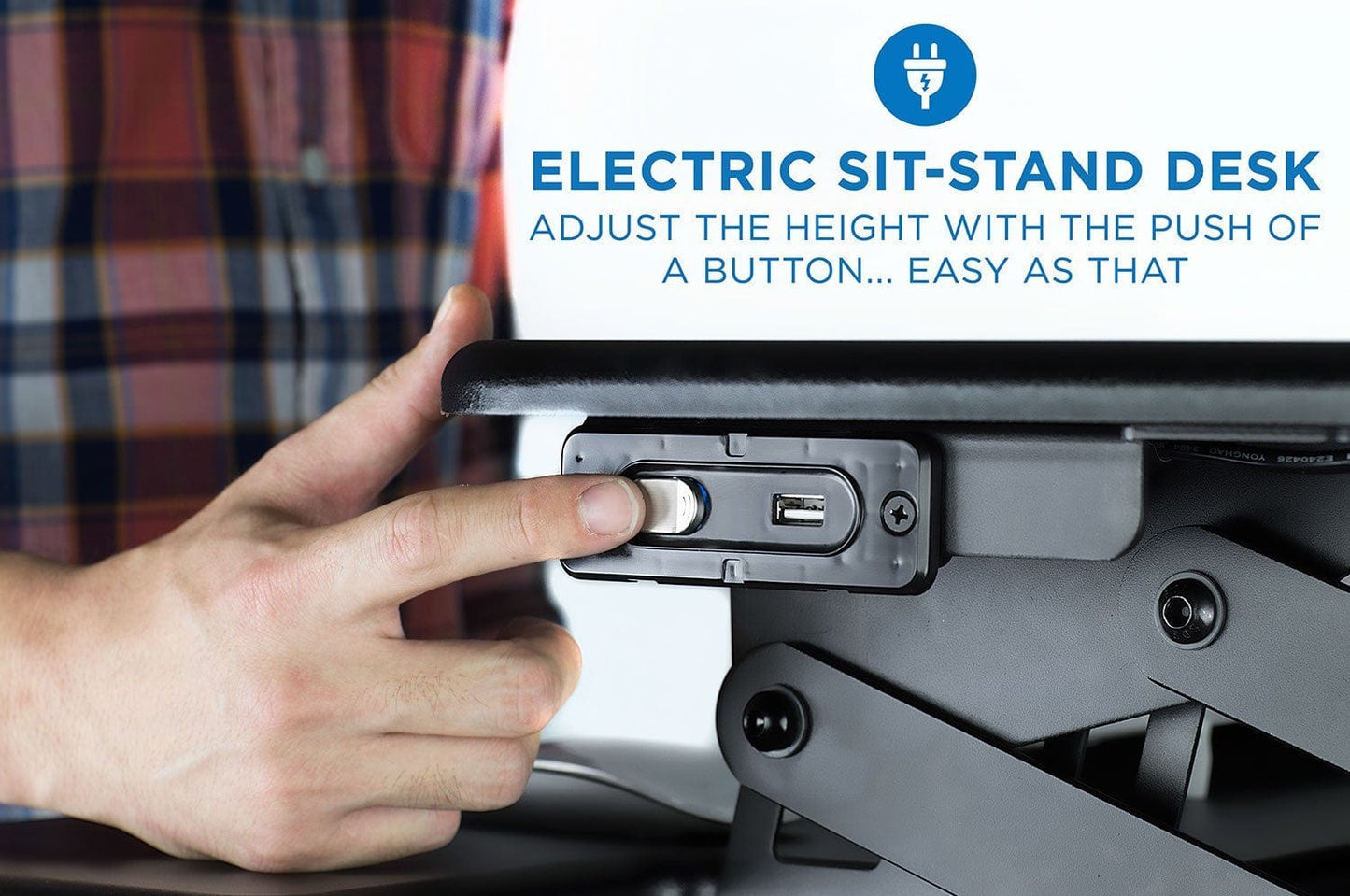 Satisfaction seems to be different depending on the utilization.
Exactly like the product picture, very happy with the purchase.